Platform Beds




• Strong flat surface provides firm support for your mattress and your back. Box springs are not needed with our platform beds (save your money!); invest in a quality mattress. Platform decks are framed with matched 3" solid oak or cherry for strength and mattress retention.

• Assembles easily with only a screwdriver.

• Easy to handle and transport.

• Complete instructions and hardware provided. Hardware supplied consists of steel bolts, nuts, lockwashers and brackets. We don't rely on wood screws or plastic gizmos for assembly.




• All standard bed sizes are available (studio, twin, ¾, full, queen, king, cal-king) plus any size you may want made to fit an unusual shape or size.

• You may also specify a base that is higher or lower than the standard 12" base. A higher base means the storage drawers under the bed can be deeper.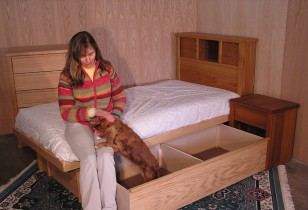 • Storage drawers can go on both sides of the bed (twins; one side). You can have one ~60" long drawer or two ~30" drawers on either side.